yesterday i took a break from blogging and observed a day of silence in honor of the lives lost in Newtown, CT. my heart still aches for the families that will grieve for the rest of their lives. for the other students from Sand Hill Elm. how will they ever feel safe at school again? how does a 6 year old understand that his best friend was murdered?
my hope for myself is that i wont just forget this in a few days. of course life has to go back to normal and other things will have to take the forefront, but i hope to always remember how blessed i am to have my son. to never forget that i am blessed to have a baby waking me up at 4am, i am blessed to have dirty bibs to wash and dirty bottles to clean, i am blessed to be able to sooth my crying child. i hope to never take these things for granted, because in their own small way, they are beautiful. i plan to continue to keep the Newtown community in my prayers and continue to do whatever i can to help.
another thing i am so thankful for and so blessed to have is my marriage to Beau.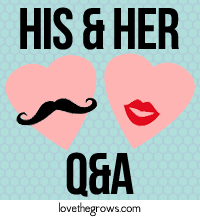 Describe how your other half dresses.
His: sexy. i don't know how else to say it... you dress... you dress... you dress... are you typing all this? you dress... idk what to say you dress sexyyy. you dress like um girl whatcha say.
Her: jeans and t-shirt
What is one quality your other half has that you hope your children inherit?
His: your kind heart.
Her: your hardworkingness and desire to do things well.
What are some amazing talents your other half has?
His: being an amazing mother.
Her: he can fix ANYTHING. like literally! and he makes a mean cheeseburger.
What team/school are you an anti-fan of/is your biggest rival?
His: florida gators
Her: i don't have one. i'm really bad about cheering for everyone.
Who was your very first crush?
His: sara french. some girl i married in 3rd grade
Her: rick. he was my best friend's older brother/my brother's best friend. we have a home video of us "getting married"
What gets you inspired?
His: you and Owen. ya'll inspire me to do the right thing.
Her: pinterest. and Fr. Juan's homilies and Fr. Eric's wisdom.
What's a TV show that has ended that you wish would come back?
His: perfect couples
Her: perfect couples. we started watching it on hulu and were so upset when it was over.
What is one of the first conversations you remember having together?
His: i can't remember exactly what we said, but i remember me sitting on the ground and you tanning in a chair and i said something about relationships and you agreed with me, and i remember my best move was to give you a high five.
Her: i remember the night we met, it was a saturday, and i was planning to be home long before midnight but then we met and sparks flew and so i didn't want to leave Leslie's house. it was like 3am and i was telling him that i had to be up in 4hrs to teach sunday school and i remember him laughing and thinking i was joking at first. he was a bad influence ;)
What is a hobby you would like to get into at some point?
His: should i start a list... i'd like to spend more time outdoors.
Her: sewing. i would love to be able to make clothes or stuffed toys for O.
About when did you know you were in love with your other half?
His: when you showed me that you'd do anything for me
Her: i knew i was more attracted to you than i had ever been to anyone after the first time we hung out. then i think the love grew gradually. i can't really think of a specific time that it hit me, but i do remember when i went to Panama City for spring break, every time we hung up the phone after talking i'd say i love you. and my friends hated me cause all i talked about the whole time was how i loved you.