i'm linking up with
Bethany
again for the
his+her q+a
. this is such a fun way to share a little glimpse of your relationship. i love hearing Beau's answers and sometimes even learn something new!
What game show would you like to be on?
His: i think my odds are best with the price is right
Her: the family feud. i think it would be so much fun to do with my family.
When you had a crush on your other half, what song(s) reminded you of them?
His: baby got back. i don't know songs.
Her: Blake Shelton's God gave me you
What is your realistic dream job/career goal?
His:
working as a special victims unit officer
Her: honestly my career goal was to be a stay-at-home mom. i would love to be able to home school our children and I would really love to be able to have a photography business with an in-home studio.
Who is a famous person past or present that you admire?
His: Zac Brown. He just started a new summer camp for special needs children... and he tours with Jack Daniels!
Her: Mother Teresa. she was such an amazing woman who had such a strong faith, the kind of faith i wish i had.
Describe the worst date you've ever been on.
His: getting broken up with on the date, and then having to drive her home.
Her:
my first "real" date. we went to the movies and he stuck his tongue down my throat, literally.
What is your favorite holiday tradition?
His: i don't have any holiday traditions.
Her: secret santa. everyone picks a name out of a hat and they leave little notes and treats under that person's pillow and are just extra kind to them and then on christmas you give the person a special gift and reveal yourself to them. and we're starting holiday traditions for our family, so soon Beau will have many new traditions :)
What is your favorite form of communication?
His: i guess talking face-to-face.
Her:
e-mail. i hate talking on the phone and people expect an immediate response when texting and i just don't spend all day with my phone in had. e-mail is just the most convenient method of communication for me.
What's the furthest back memory you can remember?
His: i guess playing with Amy on christmas. she was acting like i was a reindeer with rope tied around my waist. the house seems so much bigger then.
Her: sometimes it's hard to distinguish actual memories from pictures and videos you've seen, but i think my earliest memory is from 4 year-old pre-school. I was sick and staying home from school, but my mom had to go in to give the teacher something, so i can remember standing in the doorway of the classroom looking in at all the other kids sitting at the tables coloring.
What's the worst injury you've ever gotten?
His:
dislocating my shoulder when i got tackled by a bunch of kids when i was a climb instructor at a rock wall gym.
Her: when i was 17 i was hit head-on by a drunk driver who was driving on the wrong side of the road. i tore a tendon in my left ankle slamming on the breaks. i was very lucky though. one of the girls in the back of the car broke her back and another had internal bleeding that put her in the icu for days. thankfully everyone is ok now.
Describe your first kiss together from your own points of view.
His: i opened the door to my car to let her out and i gracefully grabbed her face and yanked her into me and gave her a big old kiss.
Her: our first kiss was on the first night we met. Beau was helping me out of his jeep. he took my hand to help me jump down and as i was jumping down he leaned in and kissed me. i remember feeling butterflies in my stomach. i had such a crush on him.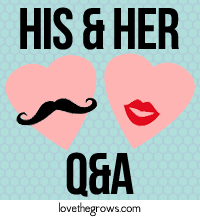 link-up and join the fun :)