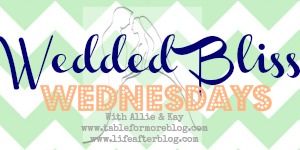 this week's link-up is just one question-
what are you most thankful for in your marriage?
there are so many things about my marriage to Beau that i am thankful for. but i think, especially lately, the thing i'm
most
thankful for is our support for one another. it is so comforting to know that no matter what Beau will be by my side supporting me, my feelings, and my decisions; and i will do the same for him. this complete support for one another comes from the fact that we are totally honest with each other and therefore totally trust each other. Beau and i both believe that honesty is the most important thing in our relationship (and really in any relationship) and that means never lying to one another, but also never keeping things from one another. these are things we've seen happen in other relationships, and have seen how destructive it can be. this is why i am so so thankful that we completely trust each other, and therefore completely support each other in everything we do.
I love you Beau, and i am thankful for your support today and everyday!
i hope everyone has a wonderful thanksgiving tomorrow, enjoying great food and even greater company! God bless!